I pressed "Publish" for the tenth time then I checked the home page once again. Still nothing. My blog articles weren't showing up on my blog home page. But this in itself wasn't a big deal. Someone would fix that for me in due time. This was on top of all the other problems I was having. There were issues with getting a credit card because I didn't have a credit history in Canada; issues with applying for Ontario health care; issues with getting my driver's license; issues with buying a van; and issues with simply getting around!
As I battled with my issues the other day, I was reminded by Eckhart Tolle, "What could be more futile, more insane, than to create inner resistance to something that already is?"
I pushed my computer aside and took a deep breath. I exhaled and surrendered to that feeling of peace being with what is about my computer and all the other things.
The picture on the wall caught my attention. A hand-drawn white dove surrounded in different sized words and colours that said, "Give peace a chance." Okay. I am. But the problems are still there.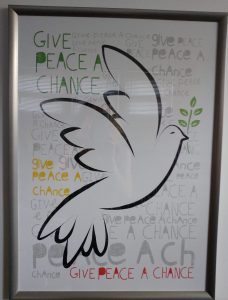 I still needed to deal with everything. I took another deep breath and noticed I felt more peaceful about dealing with things. Being with what is didn't mean sitting back and doing nothing. No. I had lots to do but I noticed I had stopped fighting with it. I wasn't feeling frustrated or annoyed or overwhelmed anymore.
Maintaining this peaceful state would be worthy work.
Closing my eyes I asked the deep wisdom within me, "With all the things I need to deal with, what's the priority?"
"Your blog."
"Okay."